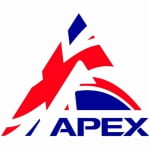 Apex formally known as Linpac Storage Systems
Location: Milton Keynes
History/ Background:
Apex design, manufacture, supply and install various storage and handling systems.

Systems:
Manufactured systems in accordance with all European and British quality approved systems, ISO9000, SEMA, FEM, SHEDA. Beams lock into uprights with a specially designed locking pin, increasing strength and rigidity.

Adjustable pallet racking

Wide aisle

Very narrow aisle

High bay

Push back

Multi-tier

Live storage systems

Shelving systems, including linspace, longspan

Racking and shelving accessories, including column guards, mesh shelving and garment rails

If you have any questions with regards to this racking or any other storage system issues please contact us and we will reply as soon as possible.
Contact us
The information is provided with the best intentions however should some of the information be incorrect please feel free to contact us with more accurate information.
Contact us